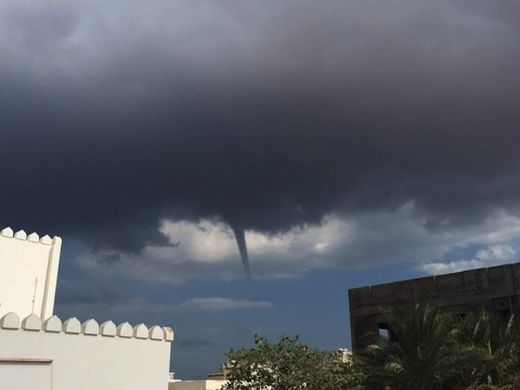 A waterspout was spotted off Sur coast today, a weather enthusiast said.
A waterspout is an intense columnar vortex (usually appearing as a funnel-shaped cloud) that occurs over a body of water. They are connected to a towering cumuliform cloud or a cumulonimbus cloud. In the common form, it is a non-supercell tornado over water.
"A waterspout appeared in Sur sea. It's a rare phenomenon, which occurs during cyclone season. Skies are cloudy too," Bader Ali Al Baddaei, an administrator of www.rthmc.net, a local Web-based forum that discusses weather in Oman, told
Times of Oman
.
In its latest tweet, Oman meteorology department has predicted rain in coastal areas of Oman. On Sunday itself, meteorology department has predicted heavy rain in northern parts of Oman from today till the end of the week.
In the Sunday's advisory, the meteorology department added that Oman will likely witness deep depression as moderate to heavy rain is expected on Musandam and North Al Batinah while other governorates will witness varied rain shower except for Dhofar and Al Wusta.