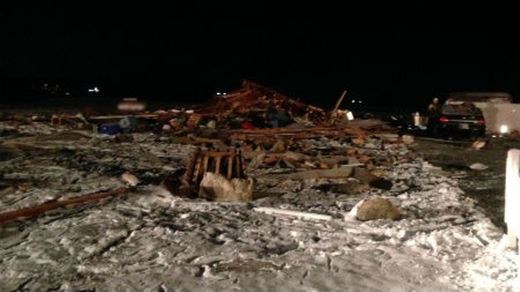 One person died and two others were injured in a house explosion Monday night. It happened in the 1200 block of S. Gonser Avenue in Ashley around 9:30 p.m.
According to the Ashley Fire Department, it started with a LP gas leak at the house. Ashley Fire Chief Dave Barrand confirmed that something separate from the LP gas leak then triggered the blast.
"I was the first one on scene, and I noticed that the house was leveled with debris out on the roadway and out on the fields," Barrand said. "Did find a male trapped inside with severe burns, also found a female that was under some debris."
Barrand said the man and woman were airlifted to an area hospital. Another man was pronounced dead on the scene.
The home sits in an isolated area. No other buildings were damaged.
Ashley Town Marshal Scott Barnhart said, "it shook the whole town" causing a flood of 911 calls.
One person was pronounced dead on the scene, two others were flown to the hospital by helicopter.
Firefighters from Ashley and Hudson as well as police from DeKalb County and Steuben County responded. Barrand said several fires started up after they got there, but the crews were able to get them out quickly.
Even though the Ashley Fire Department has confirmed a gas leak led to the explosion, Barrand said there will be an ongoing investigation.