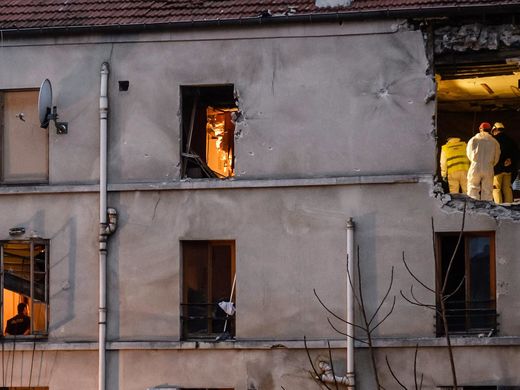 French police have discovered what they believe to be a suicide bomb belt in a bin in the southern Paris suburb of Montrouge. Police have sealed off the area and a specialist team is investigating whether the belt contains explosives.
The belt was found without a detonator
near where Paris attacks suspect Salah Abdeslam was traced to on the night of the attacks.
One theory suggests Abdeslam intended to blow himself up but abandoned the plan, although it is currently unclear why.
No traces of Kalashnikov rifles or other automatic weapons were recovered in the Saint-Denis flat where police engaged in a
seven-hour gunfight
with three terror suspects last Wednesday.
Having sifted the rubble and passed it through metal detectors, police were perplexed to find only one handgun, French radio network
RTL reported
.
Forensic scientists found
a 9mm pistol and a dozen cartridges
, along with fragments of an explosive vest filled with bolts. However, police reported coming under consistent gunfire during the assault, saying they fired 5,000 rounds in retort.
"
We came under heavy fire, and were up against true professionals
," Jean-Michel Fauvergue, head of the elite anti-terrorist force Raid, which led the assault, told
Le Parisien
.
"They took turns to fire in bursts or single shots, so there was no break in their shooting."
Grenades were thrown out of the apartment, he added, wounding several police officers. One of the terrorists then detonated their suicide vest, blowing a large part of the apartment's wall into the street and causing the floor to collapse. The bodies
recovered from the flat
include Abdelhamid Abaaoud, who is suspected of masterminding the Paris attacks, Hasna Aitboulahcen, his cousin, and an unidentified third suspect who blew himself up.
Francois Molins, the Paris prosecutor, said the operation neutralised a "new terrorist threat", and that "everything led us to believe that, considering their armaments, the structured organisation and their determination, they were ready to act".