Residents rush for open space as tremors shake cities across region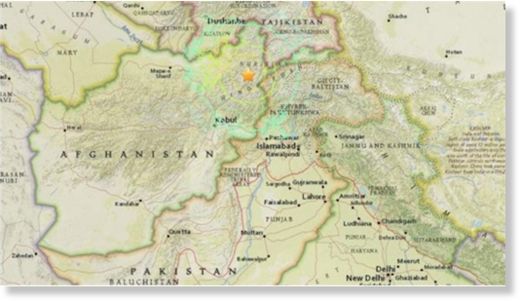 A 5.9-magnitude quake struck northern Afghanistan late Sunday, the US Geological Survey said, jolting the Indian capital and parts of Pakistan according to local reports.
The tremor struck 22 kilometres (14 miles) southwest of Ashkasham, 300 kilometres northeast of the Afghan capital Kabul, at a depth of 92.4 kilometres. There were no immediate reports of damage or casualties.
The quake, which occurred at 02:16 am local time (1816 GMT), was felt across northern Afghanistan and northern Pakistan and in the Indian capital Delhi.
In October a 7.5-magnitude quake ripped across Pakistan and Afghanistan, killing almost 400 people and flattening buildings in rugged terrain that impeded relief efforts.
For many in Pakistan, October's quake brought back traumatic memories of a 7.6-magnitude quake that struck in October 2005, killing more than 75,000 people and displacing some 3.5 million.
Afghanistan is frequently hit by earthquakes, especially in the Hindu Kush mountain range, which lies near the junction of the Eurasian and Indian tectonic plates.
In Nepal a quake in April and a strong aftershock in May killed more than 8,900 people.
Source: Agence France-Presse