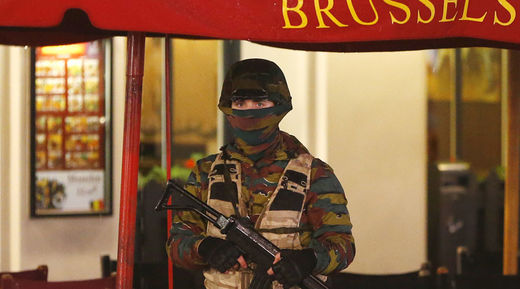 Belgian security forces launched operations in Brussels on Sunday evening, local media has reported.
Authorities asked the public not to report on their movements after a number of images showing heavy police presence were posted on social media
Using the hashtag #BrusselsLockdown, Belgian Defense Minister Steven Vandeput asked the public on Twitter "not to report their movements on social media."
"For safety, please observe radio silence on social media about ongoing police operations," police press-service posted on Twitter.
Several central streets in Brussels have been cordoned off, while another "large" police deployment was reported in the Etterbeek municipality near the capital.
"Many people, police asked everyone to leave further apart, no explanation as to why," a Belgian VRT reporter said on Twitter, posting an image of armed law enforcement in the street.
Helicopters have been seen flying over some areas around Brussels, RTL reported, citing witnesses. Police presence has also been reported in Etterbeek, the media said, adding that the Interior Ministry has asked journalists not to give the precise locations of the areas where special forces are deployed.
Residents in central Brussels were told to stay away from windows, and hotel guests were asked to stay inside. Authorities said they will hold a press conference when the operations are finished.

Comment: "Be afraid! Be very afraid!"


The highest level of alert will remain in effect for Brussels on Monday, Belgium's prime minister announced on Sunday, saying that there is a threat of coordinated, multiple, Paris-like attacks. Brussels has been at the center of an investigation into the Paris attacks, as several of the assailants came from Belgium, and one of the suspected attackers is believed to have returned.