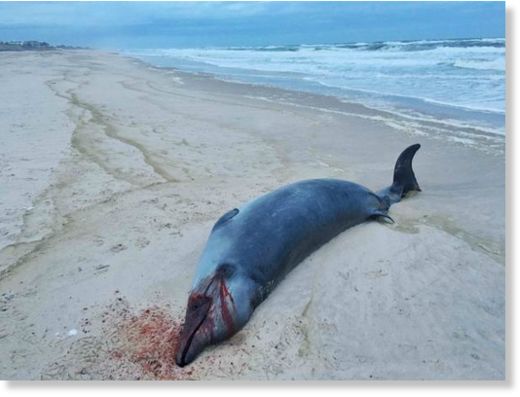 A beaked whale was found dead on Scott Cameron Beach in Bridgehampton on Thursday afternoon. The Riverhead Foundation for Marine Research and Preservation is performing a necropsy Friday afternoon, and will know more about how the whale died after that.
Robin L. Mueller said he discovered the dead whale, and the foundation said it received a call on its hotline reporting the whale at about 3:30 p.m.
The foundation sent a team out on Friday and a biologist and volunteer transported the 11-foot male back to its facility, according to Rachel Bosworth, a spokeswoman for the foundation. It weighed 1,071 pounds, she said.
It wasn't immediately clear what led to the whale's demise. Blood spatter seen in the photographs is from the eye, "where seagulls unfortunately got it," Ms. Bosworth explained.