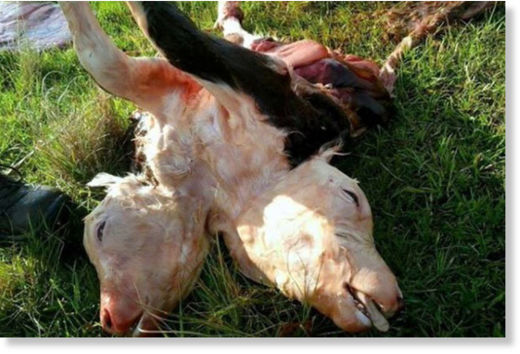 Cowherd Ramon Cabrera was shocked when he delivered one calf with two heads and six legs after a five-hour birth.
Both heads were fully formed, but the calf did not live long after being born and sparked fears of a toxic chemical outbreak.
Ramon said: "I was told by the vet that the mother had probably been expecting twins that ended up staying together due to a genetic malformation."
The unusual condition of being born with two heads is called polycephaly and occurs in both animals and humans.
It comes just weeks after a the discovery of a mysterious humanoid corpse with huge fangs sparked claims of a real-life vampire.
Its most common cause is two identical twins begin to form from the same egg, but do not separate correctly and end up sharing the same body.
But environmental groups from the surrounding area however told local media they blamed the increase in use of chemicals for the mutated calf.
Most of the time, animals and humans with polycephaly die soon after birth.
The two-headed critter was born at the Los Amigos farm in the Argentine town of Los Conquistadores.
Last month, a critter branded the Croc-Cow - named because of its part crocodile, part cow appearance - was born.