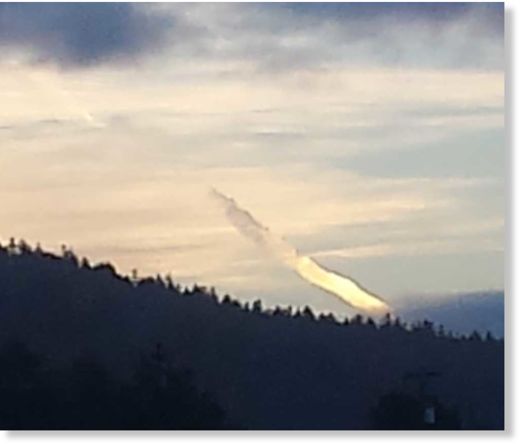 Wednesday, Nov. 18 was a typical morning at Pacific Union School's early morning daycare program, when just before 7:15 a.m., Gail Zanotti heard an excited five-year-old exclaim that "a fireball just went over my head!"
Curious, she went outside to take a look, and it turned out to be more than just a little boy's vivid imagination. A fresh smoke trail from a possible meteorite was clearly visible to the east. Zanotti grabbed her cell phone and started taking pictures.
"I ran outside, and I snap snap snap the trail, but didn't see the fireball," Zanotti recalls.
Nor did she directly observe any impact, as the object landed out of view. Still, she's certain something struck the ground; she's just not sure where.
"It threw up a big cloud of dust,"
she said. "Was it up past Kneeland, or where was that?"
She then noticed a second set of north-to-south smoke trails in a different location
,
apparently from more objects headed southbound.
Read more: