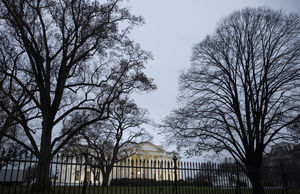 Islamic State has released yet another video message
. In this one, it threatens to blow up the White House - the second time this week ISIS has vowed to attack Washington. The terrorists had already posted a video threatening to blow up New York.
In a one-minute video titled Paris before Rome, a bearded man in a turban menaces the US with threats of suicide attacks and car bombings. Speaking in Arabic on behalf of fellow jihadists, he warns that other states will face attacks similar to the ones carried out in Paris should they follow the example of French President Francois Hollande and US President Barack Obama.
As the video continues, another Islamic State (IS, also known as ISIS/ISIL) member says that they started with Paris but are going to finish with the White House, which they will render black with fire.
The jihadists threaten to blow up the presidential residence, equating it with false idols.
This is the second such video to emerge since Monday, when ISIS released footage saying it was going to attack the US capital of Washington, DC, just as it did the French capital.
It is also the second time within the past 24 hours that the jihadists have threatened the United States. Earlier, they issued a video showing a suicide bomber making an explosive vest, putting it on, and heading towards a crowded Times Square, Herald Square, and two midtown Manhattan intersections in New York. T
he militant is seen clutching a trigger before the video suddenly goes blank.
New York police have confirmed that they are aware of the IS footage and said that, though there is no current or specific threat to the City at this time, the city will remain at a heightened state of vigilance.
ISIS have claimed responsibility for a series of deadly attacks carried out in Paris, in which 132 people were killed, including one Russian woman and one female American student.
On Thursday, Paris prosecutor François Molins confirmed that the alleged mastermind and sponsor of the attacks in the French capital had been killed during an anti-terrorist operation conducted in the Paris suburb of Saint-Denis the day before.