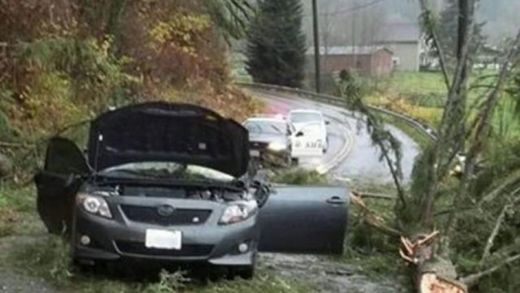 About 185 000 homes and businesses remained without power in Washington state late on Wednesday, after a storm blew down trees and triggered mudslides, killing at least three people, authorities said.
Governor Jay Inslee declared a statewide emergency because of the storm, which left a wide swath of the Puget Sound region under flood watches and warnings.
In the Spokane area of eastern Washington, utility Avista warned it could take three to five days to restore services to nearly 115 000 customers without power. The city closed schools after winds up to 70 mph (113kph) tore through the area.
In Oregon, fallen trees, mudslides and floods shut down roads across the western part of the state on Tuesday night, including a 80km stretch of Interstate 84 that authorities declared impassible into midday Wednesday.
Several other highways remained closed, Washington state police said.
At least three people were confirmed to have died in storm-related accidents, authorities in Washington state said.
A motorist was killed on Tuesday near the city of Monroe, northeast of Seattle, when a tree fell from a cliff onto his car, said Snohomish County Fire Chief Merlin Halverson.
"Many roads are closed from downed trees, active power lines, flood waters," Halverson said. "It's a hell of a mess here."
In Spokane, police said a woman was killed by a falling tree, while another woman died on State Route 904 southwest of the city when a tree struck her car, state police said on Twitter.
Puget Sound Energy, which supplies customers in parts of Seattle and its suburbs, said fewer than 30 000 customers remain without power, down from a peak of 220 000 customers.
To the north, in Snohomish County, the public utility district said about 40 000 customers were without power late on Wednesday, down from 150 000 the night before.
Mudslides and other debris blocked roads.
King County, home to Seattle, reported severe flooding on the Snoqualmie River, moderate flooding on the Green River and minor flooding on the Cedar River.
An airport in Olympia received record daily rainfall of 2.08 inches on Tuesday, the National Weather Service said.
The previous record was 1.61 inches, set in 1959.
Reuters