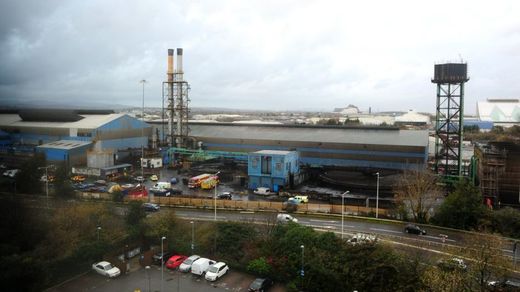 Two people are missing and five people have been injured after reports of an explosion at the Celsa steelworks in Cardiff.
Police, fire and ambulance crews are on the scene and a fire has been put out, said South Wales Police in a statement. The blast was reported just after 10.30am and the search and rescue operation is still going on.
Witnesses reported hearing a large bang.
South Wales Fire and Rescue Service said the fire was in the building's "basement area". The Filton air ambulance and a Hazardous Area Response Team were also rushed to the site on East Moors Road. Four of the injured remain at the University Hospital of Wales, but there are so far no details on their condition. The fifth person hurt has been discharged.
A spokesman for steelworkers' union Community said: "We understand the incident was in the bar and rod mill on the site, not in the steel plant. "A member of our regional team is on his way to the site now to see what assistance we can offer and to seek further clarity on what has happened."