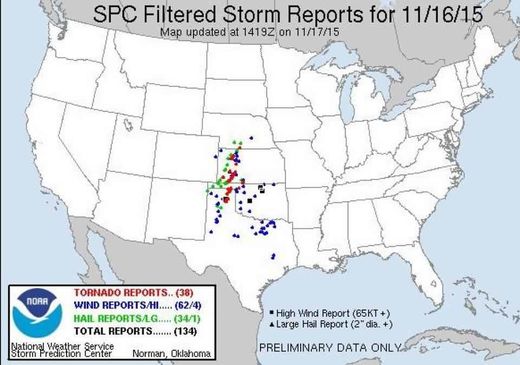 Nearly two dozen tornadoes were reported around Kansas on Monday afternoon and evening,
part of a rare November outbreak
that spanned three states in Tornado Alley.
The outbreak was the latest on record for northwest Kansas and so many tornadoes touched down in southwest Kansas that a
weather official called it "unprecedented" for that part of the state in November
.
A total of 41 tornadoes were reported in Kansas, Oklahoma and Texas, according to the National Oceanic and Atmospheric Administration. Significant damage occurred near Pampa, Texas, and lesser damage was reported elsewhere.
Kansas logged 22 tornado reports in western sections of the state - many of them touching down after sunset.
"Those are the scary ones," said Jaclyn Ritzman, a meteorologist with the National Weather Service in Wichita. "Those are the ones you don't want to see happen" because of the potential for residents to be caught unaware.
The actual number of tornadoes may differ from the initial reports, weather officials say, because the totals may include multiple reports of the same tornado from different locations.
Nevertheless, the outbreak was unusual.
"Our historian assured me that this event was unprecedented in recorded history for southwest Kansas,"
Larry Ruthi, meteorologist-in-charge of the Dodge City branch of the National Weather Service.
That office will be sending two teams out on Tuesday to survey damage in the region. Two homes and three outbuildings - including a full shed - were damaged several miles east and southeast of Buttermilk in Comanche County. Tornadoes damaged a house and hog farms in Seward County and a house in Ford County.
At least two tornadoes touched down in northwest Kansas on Monday night, shattering the previous record for the latest tornado of the year in the region. The previous record was set nearly 100 years ago, when a large tornado touched down on the morning of Nov. 4, 1922, in Yuma County, Colo.
"We definitely have confirmation about damage here," said Dave Floyd, warning coordination meteorologist for the National Weather Service branch in Goodland. "We know we've got at least two tornadoes, if not three."
Damage was reported in Grainfield in Gove County. Numerous trees and sheds were destroyed, windows were blown out and power lines were knocked down, according to storm reports gathered by the National Weather Service.
Officials said I-70 was closed for a short time next to Grainfield after the tornado crossed the interstate, leaving debris behind.
Several cars of a BNSF Railway freight train derailed in the Texas Panhandle during tornadoes that left two people slightly injured Monday night.
The Roberts County Sheriff's Office says four cars derailed Monday night near Miami. That's about 20 miles from Pampa, where the National Weather Service reports at least five tornadoes touched down in a rural area.
BNSF spokesman Joe Faust on Tuesday blamed tornadoes for the derailment of four empty cars around 7:30 p.m. Monday. Faust says the two crew members on board were not harmed. He says the 87-car train was headed to Amarillo from Wellington, Kansas.
Contributing: Associated Press