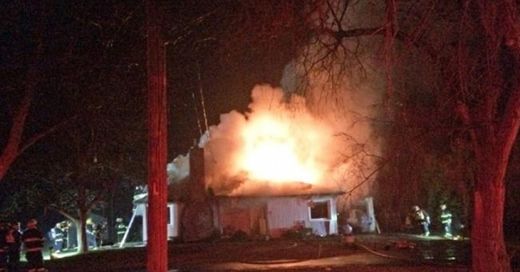 A mosque in Canada has been deliberately set on fire in what is being labeled as "clearly a hate crime,"
by the Muslim community there. On Sunday, police authorities told reporters that they were still investigating the case of arson at Masjid al-Salaam, the only mosque in the city of Peterborough on the Otonabee River in central Ontario.
The fire engulfed the mosque on Saturday around 11 pm local time, less than an hour after dozens of people from the Muslim community gathered there. No one was injured in the fire, police said, adding that the mosque was unusable due to the extent of the damage. Local media cited police authorities as saying that they were still looking into the motive for the burning of the mosque and searching for suspects.
Peterborough Mayor Daryl Bennett slammed the act in a statement released to the public, noting that the attack on "
a place of worship is a despicable act," adding "Masjid al-Salaam, the name of the mosque, means mosque of peace.
"If this is found to be a hate crime, it in no way represents the feelings of our community," the mayor stated.
The interior of the building was heavily damaged and costs to repair are estimated to be at $80,000, according to community members of Peterborough, who are collecting donations to cover the costs of the damage. "We encourage members of the community, of all or no faiths, to help the Muslim community restore their place of worship," the Peterborough Mosque Community Support group said. The incident came in the wake of a deadly terrorist spree in Paris, claimed by Daesh Takfiri group.