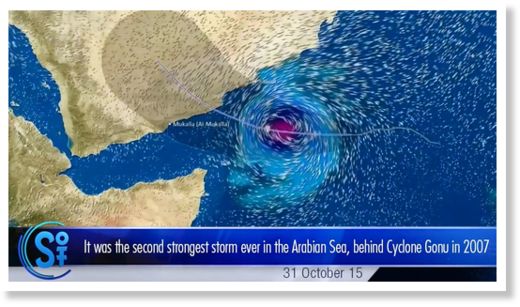 Hurricanes bringing record flooding and 'rivers of ice' to the Middle East... is it possible that Mother Nature is reflecting back to humanity the socio-political chaos in the region - and, indeed, globally?
In October 2015, deluges caused fatal flash-flooding along the French Riviera, Turkey's Black Sea coast, Greece's islands, southern Italy, and elsewhere in the Mediterranean as 'medi-canes' pummeled the region. 'Medi-cane' is, of course, a newly created term to describe this new weather pattern. Climate shift has also spread to the Middle East, where raging storms have brought weeks of unprecedented flash-flooding all the way from Egypt to Iran. Intense hailstorms last month turned the Arabian desert into rivers of ice, while Cyclone Chapala - the second strongest recorded storm in the Arabian Sea behind only Cyclone Gonu in 2007 - became
the first ever storm to make landfall in Yemen
.
Strong seismic activity last month included multiple volcanic eruptions in Mexico spewing ash thousands of feet into the air, a magnitude 5.9 earthquake in northern Argentina that damaged infrastructure, a magnitude 7.5 earthquake that killed 400 people in Pakistan and Afghanistan, and the worst ever landslide in Guatemala killing 350 people. Sinkholes swallowed a street in England and a car in Sicily, while the land opened up to form a new ravine in Wyoming. Typhoon Mujigae dropped multiple destructive tornadoes, while waterspouts came ashore in Florida, France, Italy, Tunisia, and the Canary Islands, often preceding deluges that sent rivers of mud down streets and out to sea.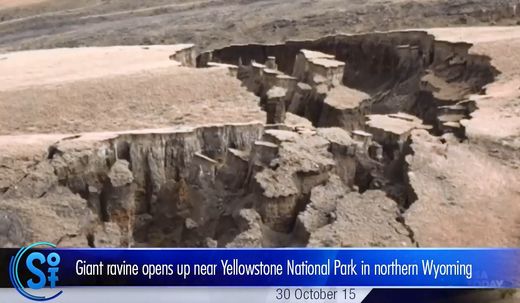 In mid-October, Typhoon Koppu set a new rainfall record in the Philippines: a staggering 52 inches (1.32m) in 24 hours. In a matter of days, Los Angeles went from experiencing a record heatwave to devastating hailstorms and record rainfall; the resulting mudslides buried hundreds of vehicles on a busy highway. Category 5 Hurricane Patricia dumped 20 inches (0.5m) of rain in Mexico's southwest, turning streets into rivers. Patricia was - at one point, in terms of sustained wind speeds -
the strongest storm ever recorded, globally
, and was the strongest ever for the Western Hemisphere in terms of both wind speeds and barometric pressure.
Texas went from experiencing record heat and wildfires earlier in the month to being flooded for the second time this year, with some rainfall records breaking those set in May. Hurricane Joaquin combined with another storm system to produce a "one-in-1,000-year" rainstorm that inundated parts of the US Eastern Seaboard. Hardest hit were the Carolinas, which saw floodwaters reach record levels. In the 'bizarre' department last month, we've got video footage of a 'ghost city' apparition above Foshan in southeastern China and a 'moth-like' UFO filmed in Ohio. On Halloween, an asteroid - discovered only two weeks prior - passed by Earth, just as large meteor fireballs were seen across Europe.
These were the signs of the times in October 2015...
Watch it on
Sott.net's Vimeo channel
:
To understand what's going on, check out our book explaining how all these events are part of a natural climate shift, and why it's taking place now:
Earth Changes and the Human-Cosmic Connection
.
Check out previous installments in this series - now translated into multiple languages - and more videos from SOTT Media
here
,
here
, or
here
.
You can help us chronicle the Signs of the Times by sending video suggestions to sott@sott.net