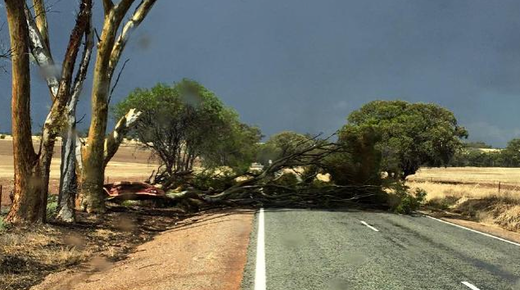 Lightening strikes are believed to have sparked several bushfires across WA on Saturday.
Thunderstorms and lightning strikes in the Wheatbelt are believed to have sparked fires west of Goomalling on Saturday afternoon.
Pictures of fallen down trees on major roads near Goomalling, which is about 45km northeast of Northam, also emerged online.
Lightning is also suspected to have caused a fire south of Kalbarri National Park on Saturday. The fire was reported about 12pm.
As of Saturday afternoon, the fire was burning between 1.2km east of George Grey Rd and the power line. A DFES "bushfire advice" alert issued just after 2.30pm said there was no threat to lives or homes but there was a lot of smoke in the area.
No roads were closed.
Motorists should avoid the area and be aware of emergency services personnel working on site. Department of Parks and Wildlife firefighters and volunteer fire brigades are on the scene.