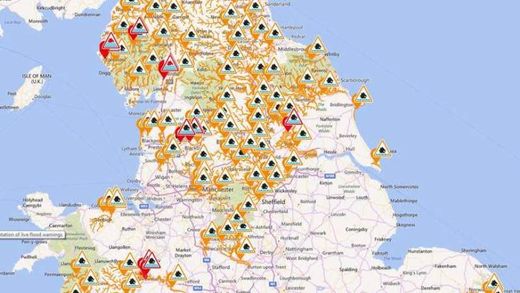 Two towns in Cumbria are warned to take immediate action and prepare for flooding as torrential rain sweeps across the UK.
The Environment Agency has issued severe flood warnings - indicating a risk to life - in northern England this weekend.
There are fears of "significant river flooding" as a band of torrential rain sweeps across the UK, drenching already saturated ground.
Cumbria - which suffered severe flooding in November 2009 - and North Lancashire are expected to be the worst-hit areas.
There is still concern over southwest Scotland and other parts of northwest England and north Wales.
The Environment Agency has issued
6 severe flood warnings
, mostly in and around the towns of Egremont and Kendal, on opposite sides of the Lake District.
This is its highest level of alert and indicates a "possible danger to life".
There are also 57 flood warnings - meaning immediate action is required - in areas including the River Calder at Whalley and River Vyrnwy at Maesbrook and Melverley.
Further heavy rain is expected today, especially over northwest England, Northern Ireland and Scotland.
Officers are checking and maintaining flood defences in preparation for the downfall.
They have sent two 24ft-long pumps, capable of pumping 120,000 litres of water per minute, to Cumbria, where a month's rain is expected to fall.
Extra Environment Agency staff have been drafted in from across the country, and are warning anyone planning to travel to check the flood risk before setting out.
Craig Woolhouse, the Environment Agency's director of incident management, said: "Heavy rain is falling on already saturated ground causing rivers to rise and bringing a risk of flooding across the North West.
"We urge people to check the risk of flooding in their area, sign up for flood warnings and be prepared to take immediate action."
The warning comes in the wake of
Storm Abigail
, which left more than 20,000 homes without power in Shetland and the Western Isles.