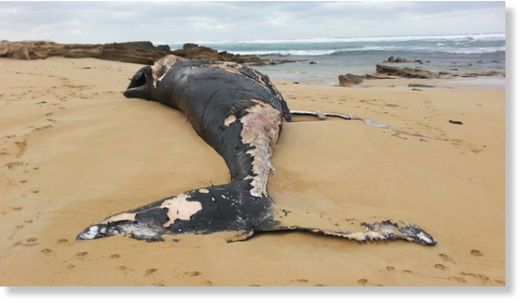 The carcass of a young humpback whale has washed up at Levy's Point.
Two Warrnambool residents walking their dog made the discovery on Tuesday evening and reported it to the Department of Environment, Land, Water and Planning on Wednesday afternoon.
Their father, who contacted
The Standard
, said the whale washed up at the eastern end of the beach, near the rocks.
"It's in a reasonable condition at the moment and is washed fairly high on the sand," he said.
The Department of Environment, Land, Water and Planning confirmed the reports on Wednesday night.
Senior biodiversity officer Mandy Watson said the animal had been identified as an 11-metre humpback whale, suggesting it was a young animal.
"This whale appears to have died recently but has been significantly scavenged by sharks on the underside," Ms Watson said.
"DELWP staff are working with Warrnambool City Council to erect warning signs on access tracks and the beach, reminding people keep their distance from the decaying whale carcass.
"The whale is located in a difficult to access area west of Warrnambool. We will continue to assess the situation.
See your ad here
"Swimmers and surfers are urged to keep a safe distance from the whale given sharks will be attracted to the carcass and the general surrounding area.
"Any scavenging of whale teeth or whale bones is strictly prohibited."
Source: The Standard (Warrnambool)