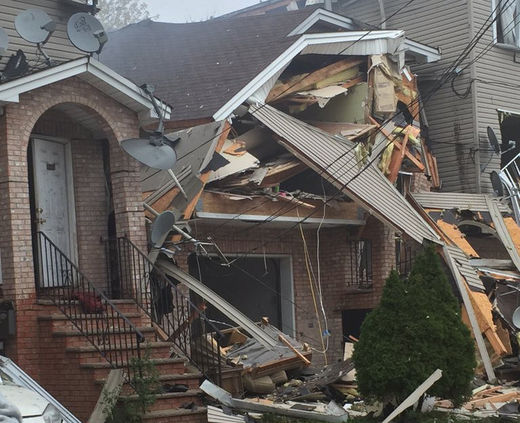 At least three people were injured and up to five people may be trapped in a house explosion on the 1000 block of Magnolia Avenue, according to a spokeswoman for the city. One person was killed in the blast, officials said at the scene.As of 9 a.m., three people had been flown to hospitals for treatment and firefighters were still searching the building, said Kelly Vence, spokeswoman for the city.
Additional details about the injuries and the cause of the explosion were not immediately available. Rescue crews continued to remove people on stretchers more than an hour after the 8 a.m. explosion. At 9:25 a.m., Elizabeth fire officials asked news crews to move three helicopters that were hovering because they need to do a silent search for more victims.
"It sounded like a plane crash and I thought it was because we are so close to the airport," said Kayon Pryce who lives in the house next door. "I was on the phone and the phone blew out of my hand.
The explosions pushed me out of bed and the tv flew off a stand into me."
Pryce also said house the exploded is a two-family unit with an apartment in the garage. He said the first floor tenants had just moved in.
Pryce said the tenants in the second unit of his building - a mom, dad and small child were taken to the hospital. He helped them escape from their unit and firefighters arrived moments later. He said all the windows in his building were blown out and his floors are no long level.
Debris was spread across the entire block and adjacent homes also were damaged with windows shattered
. Utility crews were on the scene securing power lines knocked down by the blast.
Multiple fire departments responded and the Metro USAR (Urban Search and Rescue) team, which includes firefighters from 10 departments in seven counties, was on the scene. Photos and videos posted by witnesses on social media show people being treated by first-responders and being taken to ambulances on stretchers.
Residents from as far as three blocks said they felt their houses shake
. "I was sleeping, felt whole house shaking, woke up, and thought it was an earthquake," said Guillermo Tavares, who lives on East Grand and Catherine streets