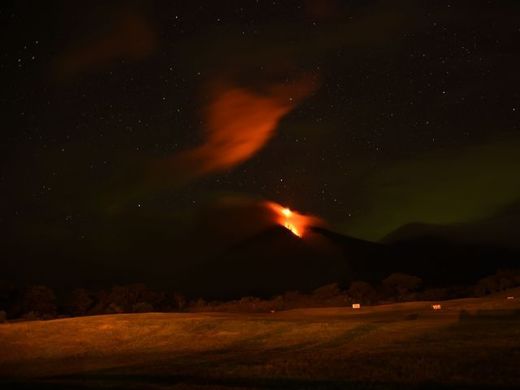 Emergency service officials in Guatemala on Tuesday issued an orange alert over increasing eruptions from the country's southeastern Fuego volcano and ordered the evacuation of a nearby hotel.
The 12,346-foot high colossus, whose name means "fire" in Spanish , showed heightened activity overnight, sending columns of ash high into the sky, spilling lava down its side and provoking small tremors.
Fine ash was falling on at least six villages and on the town of San Pedro Yepocapa, in the indigenous province of Chimaltenango, a state spokesman for the Disaster Reduction National Coordination Committee, David de Leon, told reporters.
The country's Seismology and Vulcanology Institute urged authorities to consider taking precautionary measures for air traffic.
Thick, airborne ash can clog planes' engines and cause them to fail. In February, the volcano erupted with such force and so much ash that Guatemala was forced to close the airport serving its capital.
Guatemala and neighboring countries lie on what is known as the Central American Volcanic Arc, a chain of hundreds of volcanoes that forms part of the Pacific "Rim of Fire". Most are dormant, but some spectacular, and dangerous, eruptions do happen.
The Fuego volcano lies near Guatemala's colonial-era city of Antigua Guatemala and is about 40 kilometers southwest of the capital Guatemala City.
Source: Agence France-Presse