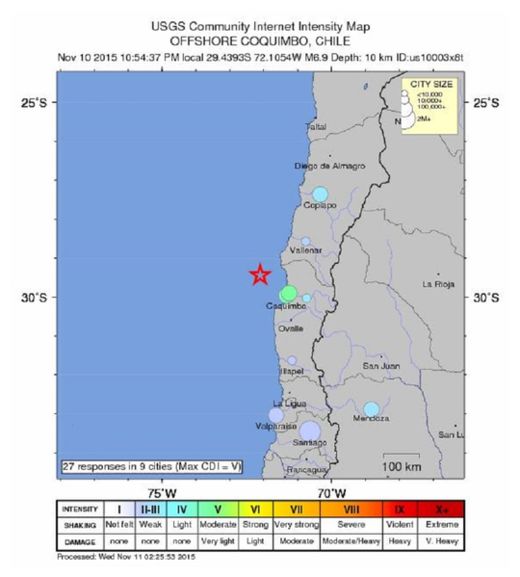 A strong earthquake with a preliminary magnitude of 6.9 has struck off the coast of northern Chile, seismologists say.
The earthquake, which struck at 10:54 p.m. local time on Tuesday, was centered in the ocean about 94 kilometers (58 miles) west of La Higuera, or 101 kilometers (63 miles) northwest of Coquimbo, according to Chile's seismological service. It struck about 32 kilometer (19 miles) below the ocean floor, making it a shallow earthquake.
The Pacific Tsunami Warning Center, which also measured the earthquake at 6.9, said there was no threat of a Pacific-wide tsunami, and Chile's Hydrographical and Oceanographical Service of the Navy (SHOA) confirmed that no tsunami alerts had been issued.
Strong shaking was felt in coastal regions, witnesses said, but there were no immediate reports of damage or casualties, said Chile's National Office of Emergency of the Interior Ministry (ONEMI).
Other details were not immediately available.