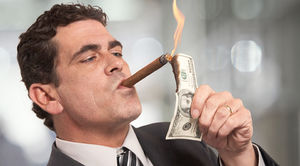 Comment: As you read the following story keep in mind that there are approximately 7.5 billion people living on Earth today...


Jeff Bezos has edged past Carlos Slim to become the world's fourth-richest person, buoyed by a 113 percent rally this year in Amazon.com Inc.
The 51-year-old founder of the world's largest online retailer passed the Mexican telecommunications tycoon Tuesday after Amazon rose $4.19 by the close of trading in New York. Bezos commands a fortune of $58.2 billion, according to the Bloomberg Billionaires Index. Slim, who was the world's richest person as recently as May 2013, is now ranked fifth with $57.2 billion. He's lost $15.4 billion in 2015, more than any other billionaire on the index.
Bezos has increased his fortune 103.5 percent in 2015 as investors have cheered profits at Amazon and growth in its cloud storage business. His $29.6 billion year-to-date gain is the biggest of any billionaire on the Bloomberg index, a daily ranking of the world's 400 richest people.
The second-largest gain belongs to Spain's Amancio Ortega, the founder of Inditex SA, the world's largest clothing retailer, who's risen $12.7 billion, a 21 percent gain.
U.S. investor Warren Buffett is the world's third-richest person with a net worth of $63.2 billion. Ortega ranks second with $73.7 billion. Microsoft Corp. founder Bill Gates remains the world's richest, with a net worth of $85 billion, according to the
index
.
Last month, Bezos surpassed brothers Charles and David Koch to become the the third richest in the U.S. The brothers each have fortunes valued at $52 billion, according to the index. Together they control 84 percent of Koch Industries, the closely held conglomerate that owns Georgia-Pacific paper among dozens of other business lines.
Bezos's climb also reflects the strength of U.S. mega-cap technology stocks, which have boosted the fortunes of other leading technology billionaires. Facebook Inc. founder Mark Zuckerberg is the world's eighth-richest person with $47.1 billion and has increased his wealth by $12.6 billion this year. Alphabet co-founder Larry Page is the 10th-richest on the planet with $39 billion, and has added $9.3 billion in 2015. Oracle Corp. founder Larry Ellison is ninth with a $42.6 billion fortune. He's slipped $6.2 billion this year.
The world's 400 richest people control a combined net worth of $4 trillion, more than the gross domestic product of every country on Earth except the U.S., China and Japan.