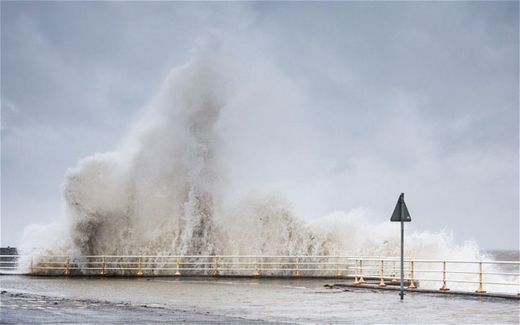 Britain can expect a winter to rival that of 2013 with the biggest 'Super El Nino' in 144 years expected to hit the UK.
Britain will be battered by three months of storms which could start within days
when the biggest Super El Nino in 144 years hits the UK
.
A Met Office forecast
warns of potential flooding caused by more than one and a half foot of rain
, with councils and emergency services told to be on standby for what will "more likely than not" become "the strongest ever" El Nino on record.
The forecast - which predicts gale-force winds and freezing -14C temperatures in early 2016 - serves as a grim reminder of the winter of 2013, which wreaked chaos across the UK and left 17 people dead.
The report, obtained by the
Sun
, says: "The risk of spells of windy or stormy weather is greater than usual. There is clear shift towards above-average rainfall.
"El Nino moderately increases the probability of increased frequency of Atlantic depressions crossing the UK and wetter-than-average conditions."
The Met Office also warned of a
severe drop in temperatures in the New Year
caused by "sudden stratospheric warmings" where bitter easterly winds chill Britain.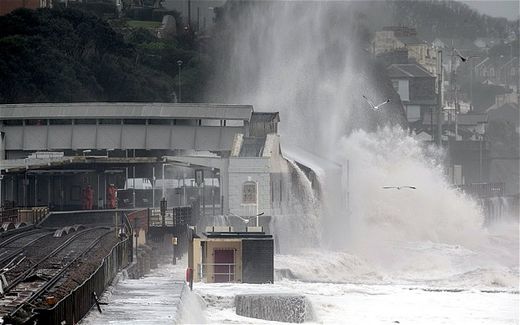 The last El Nino, six years ago
, saw the UK crippled by the worst winter for decades with harsh frosts, sub-zero temperatures and heavy snow setting in from early December and lasting until March.
A Met Office spokesperson said: "This year's El Niño started to grow in April and it has now become a strong, mature event similar to the landmark 1997-8 event.
"Typically, growth will peak around the end of the year and decline during the first half of the following year.
"Currently, the outlook for El Niño is for further growth over the next two months."
This comes as the Met Office is set to issue a weather warning this week when strong gales are forecast to batter the coast of Britain.
Although conditions will not be blustery enough to trigger an official storm warning,
downpours and 50mph winds could whip up huge waves bringing bridge restrictions and ferry disruptions.
Forecaster Sophie Yeomans said: "We are issuing a weather warning for Monday. Over the next few days it will continue to be wet and windy.
"The wind will effect most parts of the UK although the south might escape some of the rain."