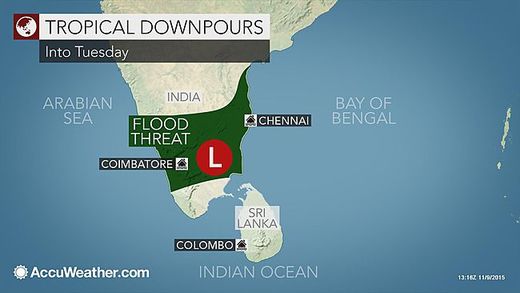 While Tropical Cyclone Megh moves away from India, tropical moisture will threaten to cause flooding in southern India through Wednesday.
The AccuWeather Tropical Cyclone Center continues to monitor an area of low pressure that developed over the Bay of Bengal last week. It failed to become a tropical cyclone prior to moving into southern India Monday morning local time; however, there is still concern for possible development as it emerges into the Arabian Sea later this week.
Residents of southern India should remain on high alert for flooding as heavy downpours have already totaled 150-250 mm (6-10 inches) along India's southeast coast from Vedaranyam to Chennai
.
The heaviest rainfall is now shifting farther inland with flooding possible in Vellore, Bangalore, Tumakur, Mysuru and Coimbatore into Tuesday. The rain will continue to move westward with local downpours expected anywhere from Kochi to Mangalore Tuesday into Wednesday.
The tropical low will be much weaker by the time it reaches the west coast of India, limiting the threat for any widespread flooding; however, the hardest hit areas could still receive more than 100 mm (4 inches) of rain.
The one benefit to the downpours will be to help erase the slight rainfall deficit across southern India following the monsoon season. Drier-than-normal conditions persisted through October.
This large tropical low will also cause scattered showers and thunderstorms over Sri Lanka; however, any flooding will be localized with most areas receiving less than 25 mm (1 inch) of rainfall from Tuesday into Wednesday.
After moving into the Arabian Sea during the middle of the week, there will be a renewed threat for this tropical low to develop into a tropical cyclone.
While development is not certain, a general track toward the west will bring the threat for some rainfall back to Socotra Island as early as this weekend, following the impacts of two devastating cyclones in the past 10 days.
Contents contributed by AccuWeather meteorologists Kristina Pydynowski and Adam Douty