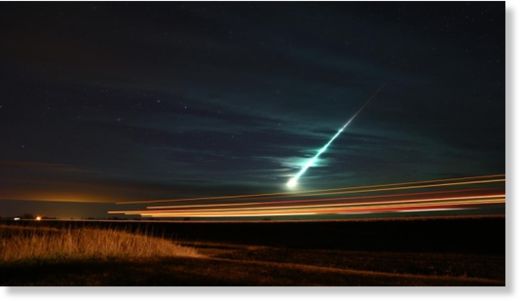 People in Saskatchewan are talking about a fireball that streaked across Saskatchewan skies last night.
It was a Taurid meteor that lit things up and was visible from Saskatoon to the Weyburn area.
Skygazers say it's a particularly good year for the Taurids — so named because they appear to come out of the Taurus constellation.
The meteor shower will continue for the next few days, but Saskatchewan skies are clouding over, so the golden opportunity may be over.
Meanwhile, as Sunday evening's meteor lit up the skies, it also lit things up on social media, with a variety of people tweeting about their sighting.
Among the lucky shutterbugs was Bill Allen, of the Ralph area near Weyburn, who captured a spectacular image of the fireball.
EpicJib Aerial Media @EpicJib

Just happened to be in downtown #Saskatoon and we grab this #meteor in our shot. #exploresask #yxe #saskatchewan

4:01 AM - 9 Nov 2015
Kevin Stanfield

@StanfieldGlobal

Whaaat was that flash!? #yxe
Quincy Harriman @QuincyHarriman

@StanfieldGlobal wondering the samething. I saw what looked like a meteor fall SW of #yxe

2:48 AM - 9 Nov 2015
Drew Dalby @Dalby

That was a badass meteor that just burned up over North #YQR!

2:49 AM - 9 Nov 2015
DV @DallasRVerity

Just saw a crazzzzzy meteor over #yqr . Super bright. Thought it was a plane going down at first!

2:40 AM - 9 Nov 2015
Sarah Cooke @SAHoganCooke

Anyone see the meteor that streaked across the sky tonight? #meteor #yqr

4:05 AM - 9 Nov 2015
Steve Liebel @sliebel

@csa_asc Couldn't get a pic but a bright green #taurid was just visible over #yqr

2:48 AM - 9 Nov 2015