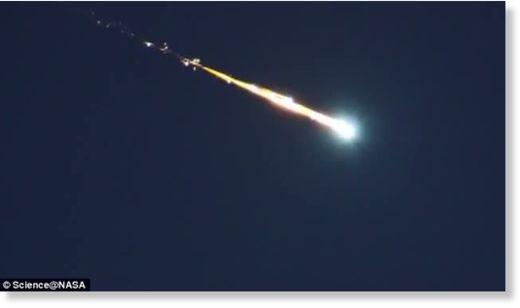 Hundreds of reports of a massive fireball streaking across the skies over Ireland on Sunday night have been posted on social media.
Fireballs are caused when a large rock from space burns up in the atmosphere as it collides with Earth at speeds of the order of 100,000 mph.
Reports on social media suggest the fireball (featured over Kildare tonight in the video)
was seen all over the island,
including County Clare where one Clare Herald reader from Corofin said the sky lit up for five seconds as the blueish/greenish fireball crossed the country from west to east at approximately 8.13pm.
Anyone who saw the fireball is being asked to fill in an online report form on Astronomy Ireland's website
'astronomy.ie'.
Any companies who operate CCTV cameras are also being asked to check their recordings for Sunday night around 10:10pm to see if they recorded the fireball near the horizon as photographic records like this are extremely valuable for the analysis.
In 1999 a fireball resulted in fragments being found at Leighlinbridge in Co. Carlow. One collector offered a £20,000 sterling reward for these meteorites.
In 1969, another fireball dropped fragments all across Northern Ireland, including one that smashed through the roof of a building in Sprucefield RUC Station.