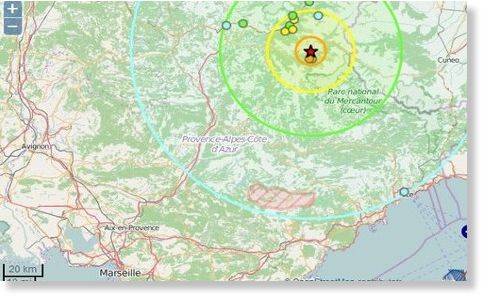 An earthquake measuring a magnitude of 4.4 made the earth move in the south east of France on Friday morning. Although it was minor, experts say a big one is due to hit the region.
No, you weren't dreaming.
If you were in the south east of France, you may have felt the earth shake for a few moments on Friday morning.
The earthquake measured 4.4 in magnitude according to France's Central Office of Seismology, which wasn't significant enough to cause any major damage.
"I was going to work when I heard a kind of thud, followed by shaking. It lasted four seconds," Pierre Morin from Saint-Etienne-de-Tinée told
Nice Matin
newspaper.
It was followed by several minor aftershocks.
The epicentre of the tremor was near the town of Barcelonette, but the minor quake was felt as far away as Nice, around 100km away.
While France is not in a high earthquake risk zone, parts of the country are regularly hit by tremors, including Brittany.
According to the France Seismology Office, Friday's quake is the fifth to hit the region this year.
Friday's quake was the biggest to hit the south of France since April 2014, when a tremor measuring, 5.2 on the Richter scale shook the ground.
Following that quake, an expert told The Local France it should act as a wake-up call because an even bigger quake is due to "hit the region and there will be fatalities."
"We don't know when a big one will come, but it will and there will certainly be fatalities," said French seismologist Remy Bossu from the European Mediterranean Seismological Centre (EMSC) in Paris