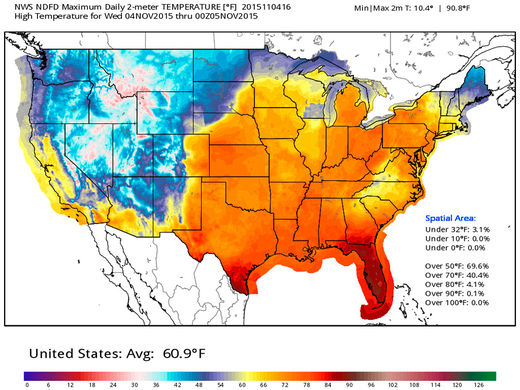 As forecast several days ago, unusual warmth has flooded the eastern half of the U.S. this week. Temperatures from the Great Plains to the East Coast have been running
10 to 20 degrees above normal
.
On Tuesday, Minneapolis hit 71°F, Boston was 73°F, and Pittsburgh topped out at 74°F. Detroit set a new high temperature record for the date, reaching 76°F. The pattern continues into Thursday, with warm air surging across the Great Lakes and continuing into New England. And in an overall warming world, these types of fall warm spells are likely to become more frequent.
Climatologically, when this type of warmth settles in this late in the year, it usually does not end in a whimper.
Surges of cold air often follow, and given the warm air previously in place, strong thunderstorms should be expected before that transition.
Additionally, that warmer air leads to more evaporation, meaning
more fuel for stronger thunderstorms
. It is one of the reasons that fall brings a secondary peak to the annual severe weather year.
A brief shot of cooler air will move from the Rockies to the Plains Thursday, and while it is not a true Arctic blast, it will contribute to the chance of severe thunderstorms across much of Arkansas and Texas on Thursday, with a somewhat more modest chance of those damaging thunderstorms northeastward toward Memphis and the lower Ohio Valley.
More important than the temperature transition,
a vigorous disturbance will be moving through the jet stream
just upwind from those locations. The strong winds aloft with that disturbance, along with the very cold air in the middle atmosphere that will accompany it, will help build a scattering of severe thunderstorms with damaging winds and hail on Thursday.
Similarly, as the wind direction and speed over Texas is expected to change dramatically with altitude, this can lead to thunderstorms capable of rotation, so there is also the threat of tornado development in the Lone Star State on Thursday.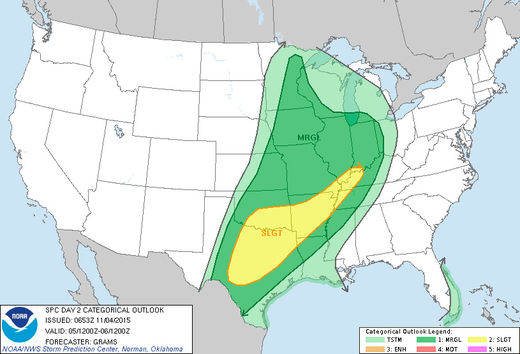 The Outlook from the NOAA Storm Prediction Center (SPC) indicates a Slight Risk of severe storms Thursday in the Southern Plains. It is important to remember that a severe storm means something very specific in meteorology. A storm is classified as severe only if it produces hail 1-inch in diameter, damaging winds of at least 58 mph, and/or a tornado.
While the term Slight Risk may sound minimal, it is a strictly mathematical definition of risk. According to the SPC, within a Slight Risk location, short-lived, isolated severe storms are possible. Further, SPC describes what to expect within the Slight Risk area:
One or two tornadoes
Reports of strong winds and wind damage
Hail possible 1-inch in diameter, isolated to 2 inches
The remaining green-shaded areas show that the risk is marginal, but not zero, it suggests:
Winds 40-60 mph
Hail up to 1 inch
Low tornado risk
In any case, because severe thunderstorms are not common during this time of year, they can catch many people off guard. These locations should be mindful that there is an unusual threat for damaging thunderstorms on Thursday.