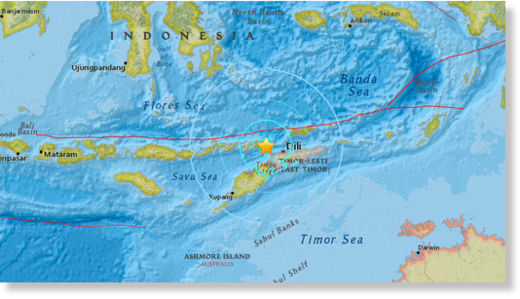 A
magnitude 6.3 earthquake shook the East Timorese capital of Dili,
the
United States Geological Survey (USGS) has reported.
The quake's epicenter was located 83 kilometers west of Dili at a depth recorded at 143 kilometers, the USGS added.
Minor damage has been reported, but no immediate casualties.
Earthquake: M 6.2, East Timor region

— EarthquakeNews (@EarthquakeNews) September 14, 2008
The USGS reported that this was the third earthquake to strike East Timor since Tuesday. The first two measured 5.7 and 4.9 in magnitude.
No tsunami threat has been issued at this point.
Witnesses said they felt the quake strike at 12:44 pm local time, SBS reported.