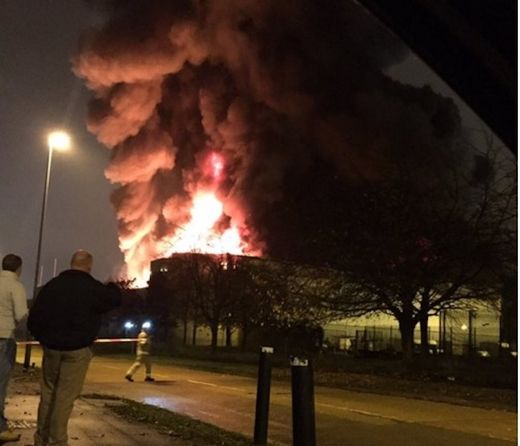 Giant flames have lit up the skies of the town of Bracknell about 30 miles (48 kilometers) west of central London, reportedly consuming an industrial estate. Witnesses have reported multiple loud blasts and train services have been disrupted.
More details to follow.
Update (08.03 GMT):
The fire started sometime after 11 pm GMT in Bracknell's Western Industrial Estate, centered in the building of NEP Visions, an international outside broadcaster, local media getreading.co.uk reports.
Frightened witnesses rushed to social media to report the huge blaze, which they said was accompanied by loud explosions.
Thought someone was letting off fireworks till i saw that smoke outside!! Bracknell literally on fire!!" tweeted @jesshuntxox. Several people on Twitter said the fire was raging very close to their homes.
Several firefighting crews have been dispatched to the scene, while police have asked people to stay away.
The warning came as multiple onlookers rushed to the scene to take footage and report on social media.
"I'm here now and it's coming out thick and fast... Can also here banging sounds like crushing metal. Roads cordoned off lots of police and firefighters, haven't seen any ambulances," Mark John said on Facebook.
Meanwhile, Heidi Malloy wrote that "some of the gas canisters have blown."
Trains passing between Ascot and Wokingham were temporarily disrupted, with some commuters stranded minutes from Bracknell tweeting in frustration.
There have been no reports of casualties in connection with the fire.
While it appears the blaze is being got under control, local journalist Jonathan Low quoted firefighters as saying that "it will be an all-night job, and could run into a 'good part' of tomorrow." The burning building is said to be at risk of collapse.
According to Low, six or seven people were in the building at the time the fire broke out, but "managed to get out" without being hurt. There has been no word yet on the cause of the fire.
An aerial photo taken by a drone and posted on Twitter displayed apparently massive damage suffered by the structure, with flames still visible inside the building's shell.