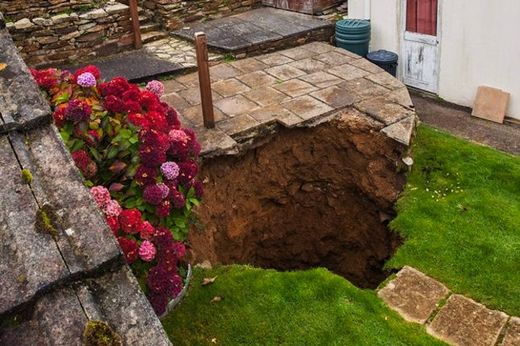 A 93-year-old woman miraculously survived after a 100ft-deep sinkhole suddenly opened up in front of her missing her by just inches.
Stunned Kathleen Angel watched on in horror as the giant sinkhole 'devoured' her garden. The huge death trap appeared after builders burst a water pipe during work to construct two new homes nearby. Kathleen, a widow, who lives in Carbis Bay, Cornwall, said: "It was a great shock. I heard something and looked up and there it was, a very deep, big hole in the middle of my garden. It is very concerning, very much so."
The hole turned out to be a disused mine shaft, which neighbours estimated to be over 100ft deep, and has now been cordoned off by wire fencing. Next-door neighbour Jim Ashford, 92, said: "Kathleen has not been coping well, when she heard about it I thought it was going to finish her off. "She lives on her own, I know her son-in-law comes to visit her, but she is a very reclusive person."
His son Nick added: "The building work is a living nightmare. It's been going on for two months and we were given no warning beforehand about what would happen. "The effects of it all are terrible, and it all culminated on Saturday, just as the rugby was on, when suddenly a 100ft hole appeared in the garden next door. "If Kathleen was standing over it she would have died.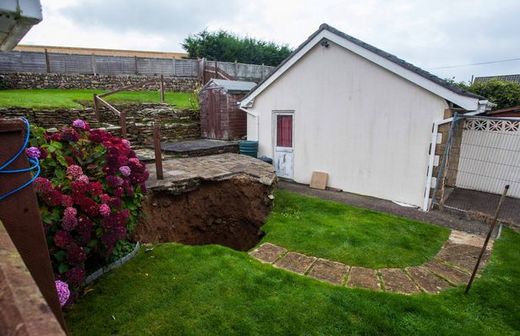 "We've had the council out, with the team leader from the building section, but he didn't seem overly concerned. "The insurance people are coming out to look at it, so the hole is still there, but it has been surrounded by wire fencing."
Other residents in the area were not surprised by the sudden appearance of the mine shaft. One elderly neighbour, who wished to remain anonymous, said: "I've heard they have found six different mine shafts in the area, some measuring 200 fathoms deep. "It's not surprising; we're surrounded by mine shafts down here. It's not unheard of for whole gardens to disappear."