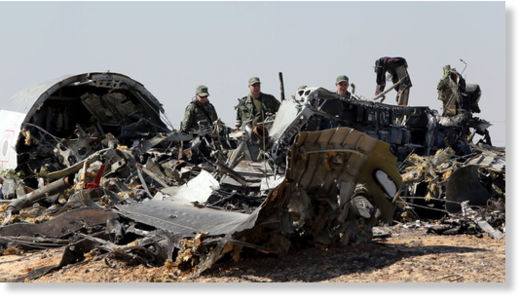 The nature of passengers' injuries from the Russian jet that crashed in Egypt's Sinai on Saturday may indicate that an explosion took place aboard before the plane hit the ground, an Egyptian doctor who examined the bodies said, Sputnik news agency reported.
"A large number of body parts may indicate that a powerful explosion took place aboard the plane before it hit the ground,"an Egyptian forensic expert told the agency.
A DNA analysis would be required to identify the victims of the Russian A321 airliner crash in Egypt, the expert added.
Earlier, Russian tabloid LifeNews claimed to have obtained the results of a forensic medical examination that allegedly stated that the passengers "in the tail section of the liner died because of so-called blast injuries."
According to the broadcaster, they were diagnosed with burns of over 90 percent, with experts noting particles of metal and aircraft covering piercing the bodies of the deceased.
The people in the front part of the plane died from different causes, including blood loss, shock, open head injuries and multiple fractures, it added. There have been no official announcements made so far on the results of forensic medical examination of the crash victims.
The Russian airline Kogalymavia's jet crashed in Sinai Peninsula en route to St. Petersburg from the Egyptian resort city of Sharm El-Sheikh on Saturday.
All 224 people aboard were killed, making it the deadliest civilian aircraft disaster in Russian and Soviet history. Since the crash on October 31, several possible causes of the Sinai tragedy were discussed by experts.
Islamic State
Islamic State (formerly ISIS/ISIL) attempted to claim responsibility for the incident, saying that it brought the plane down as retaliation for Russian air operation against the terrorists in Syria.
However, many experts rejected the claim, saying that the jihadists only possessed man portable air defense systems with no capability to reach the high-flying Airbus.
Bomb on board
An explosion of a bomb aboard the plane was mentioned as another possible cause of the crash.
US global intelligence company Stratfor said that Egyptian security personnel often take bribes for allowing passengers to avoid checks, with cargo security screenings in the country also not being strict enough.
Mechanical damage
There was also speculation that corrosion of parts of the plane could have caused the crash, backed by claims by the Egyptian authorities that the Russian airliner broke up in the air.
The journalist also found out that the Airbus A321 struck its tail on a runaway during an unsuccessful landing in 2001. It was later repaired, but some experts believe the lasting damage could have causing the crash in Egypt.
Russian first class pilot Andrei Litvinov shared his belief with
Kommersant
newspaper that the Sinai tragedy happened due to "old metal parts, an old aircraft that was already damaged."
Human error was also mentioned among the early explanations for the incident, but this was quickly rejected.