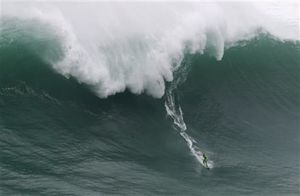 Authorities say a heavy storm has killed one person and caused severe flooding in Portugal's Algarve region.
Authorities were cleaning up and counting the cost of the damage Monday after the heavy storm hit the seaside resort.
Municipal workers, storekeepers and local residents shoveled away thick mud and fire crews pumped rainwater out of basements in Albufeira, the hardest-hit vacation town some 200 kilometers (120 miles) south of the capital Lisbon.
Police said they discovered the body Monday of an 80-year-old man whose car was found submersed.
The storm Sunday swept away cars, uprooted trees and washed away roads. Stores in the downtown area were flooded with brown water almost to the ceiling.
Heavy rains also started hitting Spain on Monday but there were no immediate reports of problems there.