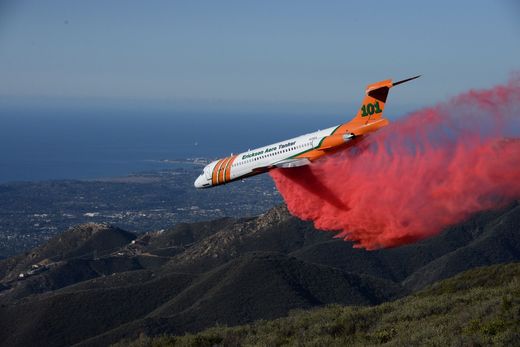 A brush fire broke out in the hills above Montecito and Santa Barbara in the pre-dawn hours Thursday and quickly grew, fanned by high winds and dry Santa Ana conditions.
The Gibraltar Fire had grown to about 70 acres by 9 a.m. Evacuation warnings are in effect for some communities in the area.
The fire started a half mile from Camino Cielo, west of Montecito Peak. Windy, dry Santa Ana conditions are fueling the fire, which was first reported at 5:16 a.m., according to the Montecito Fire Protection District.
Santa Barbara County fire Capt. Dave Zaniboni told the Associated Press winds of 25 mph are pushing the fire to the east. A helicopter and 10 engines are on scene to assist hand crews working on the ground, and a unified command is being established with Montecito Fire, the U.S. Forest Service and Santa Barbara city and county fire departments.
Northerly gusts are expected to shift to the northeast Thursday night, becoming the first significant Santa Ana wind event of the season
, AP reports. When those winds sweep down the mountains toward the sea, they create dangerous air turbulence that can prevent aircraft from getting close enough to drop, said Jim Kunkle, a contractor who runs the Santa Maria Air Tanker Base.
Two firefighting aircraft were unable to drop retardant because of air turbulence as of 8:45 a.m. One other air tanker made a successful drop of 1,200 gallons. The Forest Service has ordered more than 10 tankers, Kunkle said via a statement from the emergency management office. "They're going after everything they can get," he said.
Updated 10:38 a.m.: Evacuation warning zone expanded
The Santa Barbara County Office of Emergency Management has expanded the areas under evacuation warnings. The area now includes zones 2 through 5.