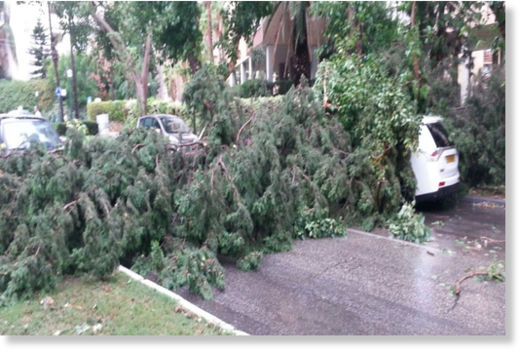 Tens of thousands of Israelis remained without power a day after a severe storm passed through the country and caused the death of a construction worker.
Most of the homes without power on Monday, a day after the lashing rain and strong winds blew through the country, are in central Israel, where traffic and street lights are not working, causing dangerous traffic tie-ups.
Hundreds of trees and large branches remain on the ground, as well as felled billboards and power lines. Debris from private homes and building sites also is littering the streets.
The worker, 20, was killed Sunday in the central Israeli city of Pardes Hanna when the heavy winds blew down a wall at the site where he was working.
The Israel Electric Corp. blamed the slow power recovery following the brief storm on a dispute with labor unions, charging that the workers were not working on an emergency schedule. Workers denied that they were dragging their feet, saying that they were overwhelmed by the damage.