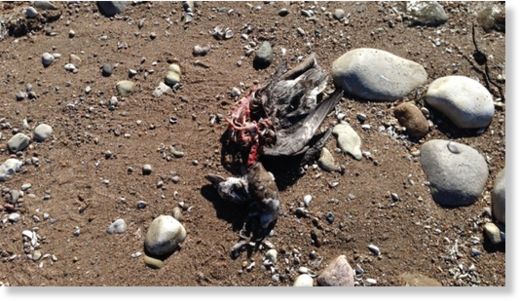 An investigation is underway to figure out why
a large number of dead birds have washed up on beaches in Tiny Township.
It's not uncommon to see ducks wash up on the beaches
but on Thursday Tiny Township workers counted 66 dead birds.
"We find ourselves back here this year with another large amount of dead water fowl on the beach," says Tiny Township Mayor George Cornell.
The last major occurrence of dead birds was in 2011. On Friday workers removed 12 more ducks from the beach.
"To address the situation the public works department on a daily basis check the major public beach parks," adds Cornell.
The Ministry of Natural Resources tells CTV News they aren't able to determine the reason the birds are dying. However botulism has been the cause of death for the birds. Migrating ducks will eat contaminated mussels or fish and the toxins will paralyze the ducks, which normally leads to drowning.
Christine Lindsay visits the beaches year-round and says the dead birds might stop her from coming.
"It's a concern because you worry about what is killing the ducks and then you kind of wonder if it's killing the birds, can it affect me?" adds Lindsay.
Tiny Township Mayor Cornell says if you find a dead duck along the beaches not to touch them but to call the Ministry of Natural Resources and if you find one your private property to call the township.