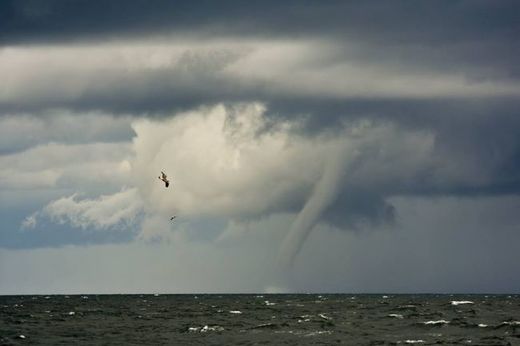 Centuries ago, fishermen would have shot any guns they had aboard into the heart of any twisting maelstrom they saw that connected the ocean to the sky. Waterspouts were feared as omens of bad luck. But on the afternoon of Oct. 17, crewmember Aldric D'eon shot his Nikon D7200, fitted with a 70-300mm lens, at the phenomenon.
Luckily, for those who marvel at his capture, the West Pubnico resident is a camera-toting type of person. "I'm a welder by trade, a fisherman by choice. I do photography as a hobby," he said. D'eon's camera was on the dash of the FV Angelo O during his stint at the wheel. They were about 50 kilometres from homeport (Dennis Point, Yarmouth County), after fishing for haddock on Georges Bank, when he noticed a storm on the radar, west of their portside.
"A lot of times when you see a rainstorm on the radar, it's spread out all over. This one was intense, a solid block that stayed its shape," he said. He estimates the storm was about six miles wide by 15 miles long on the radar. The sky was black near the storm but forward, starboard and aft there were fluffy clouds and a blue sky. Although D'Eon has seen odd formations of clouds at times, this was his first glimpse at a waterspout.
Although the vortex looked huge and ominous, fear wasn't a factor for him. "It was five or six miles from us. I was watching what it was doing on the radar and it was going to the north, northeast, faster than we were. "It was still west of us so I knew it wasn't going to go over top of us. We watched it for half an hour and then the dark cloud started to break up," he said.
Photos of waterspouts are not a rare sight for Environment Canada senior climatologist David Phillips. He's seen many, including "families" of the twisting columns. He describes the one D'Eon saw as a textbook example, with the parent cloud and spray at the surface. "It looked a little more ominous than what I've seen on the Great Lakes. They look tame compared to this one. It looked almost angry," he said.
When he checked observations for the area around the sighting, he noted that water temperatures were around 15 or 16 degrees Celsius but that the air temperature was around eight degrees. It was also very humid and a thunderstorm was occurring. The combination of conditions could result in waterspouts. He added that some of the spouts do have the power to flip a boat, with winds of 80-100 km/hr. possible
"It is 'tornadic' in a sense. It's in that family of 'twister sisters'," said Phillips. There have been famous instances of waterspouts picking up fish, frogs or turtles and carrying them up into the vortex. "They have carried them to a level in the atmosphere that can actually freeze them, then they dissipate and fall from the sky. There have been documented cases," said Phillips.
The Florida Keys can see 400-500 waterspouts each summer. In 2007 there was a family of waterspouts in late August off Prince Edward Island. Warmer water and cooler air could spawn an epidemic of waterspouts, says Phillips.
D'Eon is still marvelling at the experience. "I'm excited to no end to be at the right place at the right time. And I had the gear with me. If I had the cell phone (camera) it wouldn't be anything to talk about."