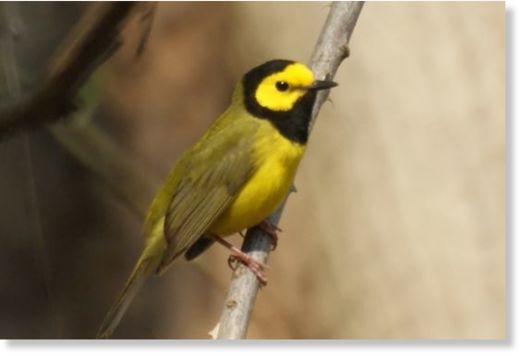 Birdwatchers flock for a look and listen after warbler likely blown off course on its way to Mexico.
Bird watchers are flocking to Lafarge Meadows in Fish Creek Provincial Park to get a look at a rare bird
, likely lost on its way to Mexico.
"This is, to the best of our knowledge, the first time in over 11 years one's been in Calgary," said Andrew Hart, president of Nature Calgary. "And the other one probably got lost as well."
Hart said the yellow-bodied hooded warbler, recognizable from the black feathers around its head, was likely caught in a storm and thrown off course.
He said birders should enjoy the presence of the bird while they can.
"The one that was seen 11 years ago ... showed up about the same time of year and hung around until the beginning of December," he recalled. "It was in someone's yard and they were feeding it mealworms. Then there was a storm and it vanished."
He thinks this one may not survive Calgary's cold weather.
"Many people have never seen a hooded warbler before, and you're never going to see one in Calgary again."
Hart said the popular bird should be easy to find - just follow the path until you find a big group of birders gathered around gawking.