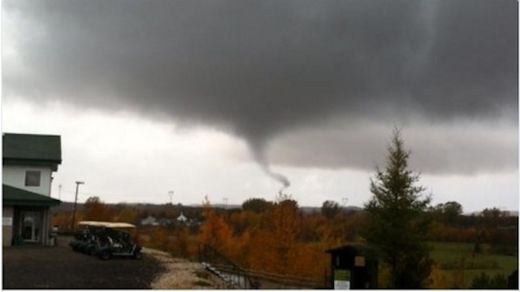 It was an active night of fall weather Thursday as thunderstorms prompted heavy downpours, hail and strong winds in several communities. But it was a funnel cloud that formed in Consiton, Ont., an area just outside of Sudbury, that sent people scrambling to post multiple photos and videos of the rare event.
In the video above, Stewart Hoskins captured the funnel cloud as it was forming around 2:30 p.m. "That's close to the ground actually. Look at this, look at these clouds going, just swirling around," Hoskins says in the video. "That little thing just trying to touchdown."
The storm hit Greater Sudbury Thursday afternoon. Hoskins told NorthernLife.ca the funnel cloud touched down on Walter Street in Coniston. "There were multiple trees snapped, shingles torn off of roofs and a huge trampoline that had been lifted and flung about 200 feet," he told the local newspaper.
Ontario Tornado Watch also shared a video of the cloud forming. Around 6 p.m. ET, radar picked up signs of a rotating storm heading towards Cornwall, Ontario. Rotation had weakened by 6:45 p.m., but the system continued to produce strong winds in the area. No tornado watches or warnings were issued.
The active weather comes courtesy of a weak surface low pressure system, which produced several
lightning strikes
across southern Ontario. The same temperature contrast that brought active weather to Ontario, also created conditions that allowed a waterspout to form on Lake Superior.
Waterspouts form when there is an extreme temperature difference between warm lake waters and cold air aloft.
While waterspouts are common during the fall, funnel clouds are not
, explained The Weather Network meteorologist Michael Carter. "The fall much like spring, is a season of transition. In those transitional periods it is possible for conditions to come together to get severe thunderstorms and funnel clouds.
You need to have warm surface temperatures and lots of instability to fuel thunderstorms. The difference is in fall, you tend to have less instability but it can be sufficient. You can have just enough instability, combined with a dynamic system with a lot of wind shear and strong areas of low pressure that can help compensate for that lack of instability," Carter noted.
"With waterspouts, they are common in the fall because it is more tied to a temperature contrast. Lakes are still warm early in the fall and there's cold air coming in. So you get this lake-enhanced convection which can produce waterspouts."
The temperature contrast that fuels waterspouts are the same conditions that trigger lake-effect snow, added Carter.
A cold front is forecast to trigger lake-effect showers beginning Friday evening, with the potential for mixed precipitation, including snow and Graupel overnight Saturday into Sunday for areas along Georgian Bay toward Barrie.
Several areas in southern Ontario have been issued a snow squall watch, while others remain under a special weather statement.
In places like Barrie, Dufferin, Hanover, Owen Sound, London and Strathroy, snowfall accumulations could reach 15 cm by Saturday afternoon. The threat of waterspouts continues through the weekend.