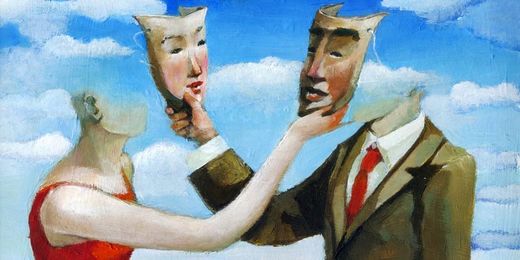 "Come sleep with me: We won't make Love, Love will make us," Argentinian author Julio Cortázar wrote in his 1963 novel
Hopscotch
. Love can indeed change people—a new romance can be an opportunity for self-growth. But when a relationship leads people to reject other important pieces of their lives, those gains diminish, researchers report in a new study.
"It is well accepted that people may change when they become involved in a new romance, but we felt that little was known about the personal factors likely to affect the extent and nature of these changes," said coauthor Noémie Carbonneau, a social psychologist at the University of Quebec at Trois-Rivières.
Carbonneau and her colleagues wanted to examine whether two different types of romantic relationships lead to diverging changes in people's selves and lives. In the first type,
harmonious romantic passion, people don't feel obligated to pursue their relationship but do so autonomously. "Their romantic involvement is in harmony with their other life domains
," Carbonneau said.
The other type,
obsessive romantic passion, comes from an internal pressure that drives people to pursue their partners. "With obsessive passion, people feel that their passion 'controls' them," Carbonneau said. This type of passion is more likely to create conflicts with the other important spheres of a person's life.
Carbonneau and her team asked more than 500 people about their and their friends' relationships, querying them about their growth and interest in other bonds and activities. The researchers found that both types of relationships can lead to personal growth. This prompted people to agree that being with their partner had "made me see my life's purpose more clearly" or "brought out the best in me."
"When people are in a romantic relationship, their sense of self becomes intertwined with that of their partner," Carbonneau said. "The resources, perspectives, and characteristics of that partner also become part of the self." This enrichment gives people more diverse, complex self-concepts.
The researchers quizzed lovers, followed up with them after six months, and asked their friends to describe any changes they'd seen; in all cases, harmonious romantic passion was linked to personal growth. Obsessive romantic passion was initially connected to self-reported growth, but this effect didn't hold up after six months or in the eyes of friends.
There was another key difference between the two types of passion. The people in harmonious passionate relationships didn't peel away from other meaningful facets of their lives. "They maintain close ties with friends and family and they remain engaged in activities that they like," Carbonneau said.
Unsurprisingly, people in the throes of obsessive passion were more likely to disengage, at least as seen by their friends.
Integrating a person's partner into their sense of self can come at a price, the researchers concluded. "If adding new elements to the self...means letting go of other important elements that used to define the self (such as friends, family and hobbies), then we believe the costs cancel out much of the gains," said Carbonneau, who
published
the findings September 14 in the journal
Motivation and Emotion
.