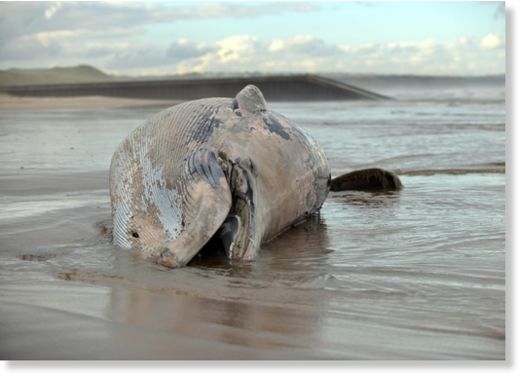 Visitors to Hartlepool's Steetley beach were left surprised by the sight of an 18ft-long whale lying on the shore.
The dead whale was found by a member of the public washed up on Steetley Beach on Thursday afternoon.
The HM Coastguard was called and they arrived on scene at 1.42pm to assess the situation.
Officials from Hartlepool Borough Council and the Zoological Society also attended the scene.
Stephen Hart deputy station officer for the HM Coastguard said it has been identified as a minke whale. It has been named Wally by locals.
"It was found by a member of the public who reported a deceased whale in the beach north of Steetley pier," he said.
"When we arrived there were council officials already on scene and councillors will come back around 8am on Friday to collect it.
"A man from the London Natural History Museum will also be coming to take some measurements."
Jenna Day, 28, and her partner Colin Smith, 29, from Clavering, were at the beach to see the sight.
"I came down to see it because it is the closest I will ever get to seeing a whale," Mr Smith said.
A council official at the scene estimated the whale weighted around five tonnes and said it is likely the whale will be collected by a tractor and taken to a pet cemetery in Durham.
A council spokesman said officers had been to the beach along side HM Coastguard and the Zoological Society and said it was decided to return at low tide on Friday as it was unsafe to do remove it at the time.