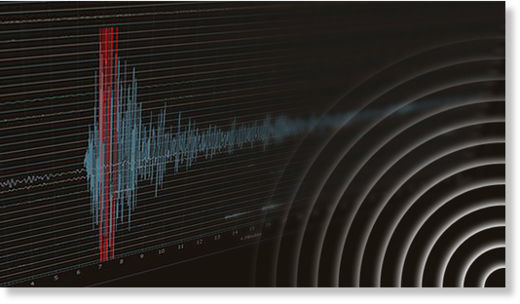 A pretty big earthquake shook Yavapai and Coconino counties late Sunday night.
The event occurred at 10:57 p.m. about seven miles north of Sedona near Munds Park, according to the Arizona Geological Survey in Tuscon.
"The location is quite close to the Oak Creek fault zone, a down-to-the-east normal fault with 700 feet of vertical displacement in the past 10 million years or so," said Phil Pearthree, chief of Environmental Geology at the Arizona Geological Survey.
"We think this fault has been active in the past 2 million years, but don't know how recently it has ruptured in a large earthquake," Pearthree said.
More than 1,000 people reported to the U.S. Geological Survey that they felt the earthquake.
Marjorie Tuttle told CBS 5 News that she hasn't felt an earthquake since she lived in San Francisco 17 years ago.

"We were rocking and rolling tonight about 11 p.m. when we felt [it] here in Munds Park," she said. "This is the first time I have felt one here!"
Reports began coming into the CBS 5 Newsroom at around 11:30 p.m. Sunday.
The U.S. Geological Survey confirms the quake reached a magnitude 4.7 on the Richter scale. The USGS triangulation puts the epicenter about seven miles north of Sedona, 16 miles south-southwest of Flagstaff and 22 northeast of Cottonwood. It was almost 6.5 miles below the surface of the Earth.
Calvin Johnson felt the shaking in his Flagstaff apartment.
"Pretty intense, scary," he said. "Our whole apartment was swaying [back and] forth."

In Sedona, Manet Oshier described an unusual sound. "It was a loud ripping noise and a shuddering through my house."
"It was a large enough earthquake to be felt, but not quite large enough to really get too concerned about," Dr. David Brumbaugh, director of the
Arizona Earthquake Information Center
, told CBS 5 News on Monday morning. "We learn from these earthquakes, a little bit more each time, about what the causes might be, how better to prepare for them ...."
The Arizona Department of Transportation says crews removed some rocks and debris from State Route 89A, checked the highway and declared it safe.
Area residents reported feeling shaking and swaying, and the USGS website recorded 1,000 responses within an hour of the quake from people - mainly in Flagstaff and Sedona - saying they felt the quake.
There were no reports of injury or damage.
The largest historical earthquakes in the region, a series of three magnitude 6.0 events, occurred between 1906 and 1912, near Flagstaff.
More recently, a magnitude 5.1 earthquake occurred in 2005 about 50 miles southwest of this epicenter,
and a magnitude 3.5 earthquake occurred very close to this epicenter last week.