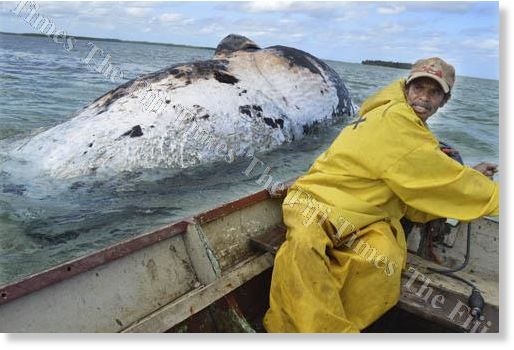 Baswa Sunny Nand has been a fisherman for more than 30 years and in that time he has seen a lot of things at sea.
But yesterday he was surprised when he stumbled upon the carcass of a whale on a reef near Nukulau Island.
Mr Nand said he was on his way back from a fishing trip when he saw the stranded carcass.
"At first I thought that it was a capsized fibreglass boat. I came close to investigate thinking that I may be able to tow it in to shore. But when I got closer I saw that it was a whale," Mr Nand said.
Mr Nand explained that at low tide, people were able to walk on the reef and said the whale may have been stranded as the tide went out. He said it was the first time for him to see the carcass of a whale. He estimated the carcass to be 35 feet.
"When I saw the whale, the bottom jaw and the teeth were missing. I was surprised because I have only seen live whales out in the sea, never dead."
The 53-year-old Wailea Settlement resident said he had also taken his children to see the carcass. While the species of the whale is yet to be identified, it is thought to be that of a pilot whale, a species regularly seen in Fiji waters.