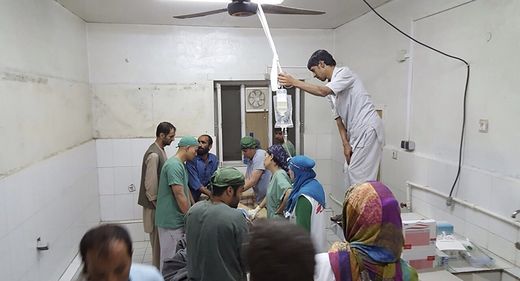 In an exclusive Sputnik interview, a top MSF representative said he doubted the US-initiated investigation of last week's Kunduz hospital bombing would be independent enough.
The US military's claims that the Kunduz hospital attacked by US forces housed Taliban militants are "complete nonsense", a representative of the Doctors Without Borders (MSF) told Sputnik Tuesday.
"We want a fully independent investigation and the three we've heard of so far don't seem to us independent enough, so we're looking into other possibilities, but it takes some time before we can come with a clear proposition," president of MSF's operational directorate in Brussels Meinie Nicolai told Sputnik in an exclusive interview.
Not all of the hospital staff is accounted for after the bombing, he added. "We are dealing with the aftermath, we have [people] severely wounded, we have not all staff accounted for, we don't know that everybody is alive," Nicolai said.

"Saturday morning, bombing started at the hospital, and this was by air, and it lasted for more than an hour. And there were several rounds where an airplane came over and fired at the hospital," Nicolai added.
According to him, victims of the US bombing included children who were burned alive.
On September 28, Taliban militants seized the northern Afghan city of Kunduz, knocking government forces out of the city. After the reinforcements arrived, the Afghan army, backed by US airstrikes, began an offensive operation to regain control of the city.