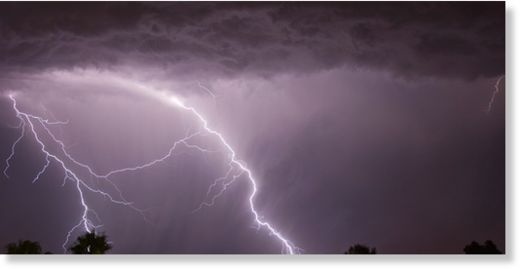 Lightning killed six persons in Telanga State on Sunday. Two farm workers and a bull besides a cattle shed was gutted in Adilabad district on Sunday. The incidents occurred separately at Dandepalli and Jannaram mandals during a spell of heavy rain accompanied by lightning.
Chimman Rajanna, (55), was killed while working in a field at Nelki Venkatapur in Dandepalli, while 35 year old Sripati Vijaya was killed in a field at Chintaguda in Jannaram mandal. The bullock died at Thimmapur while the cattle shed was burnt at Akkepalligudem, both in Jannaram.
A 60-year-old woman was killed by the lightning in Chinna Metpalli village of Korutla mandal in Karimnagar. Reports reaching here said that the woman named B. Lingavva was working in her maize fields when the lightning struck her killing her instantaneously. The police registered a case.
Two persons were struck by lightning and killed and two others were injured in Nizamabad district. The deceased were identified as Rani (24) of Chemgal village in Bheemgal mandal and Gopal Reddy (40) of Nagireddipet mandal.
Meanwhile, two oxen were also reportedly killed due to lightning in Biknoor mandal.
A woman died as thunderbolt struck at Chokya Tanda of Turkapally mandal in Nalgonda. The deceased identified as Sakkubai (32).