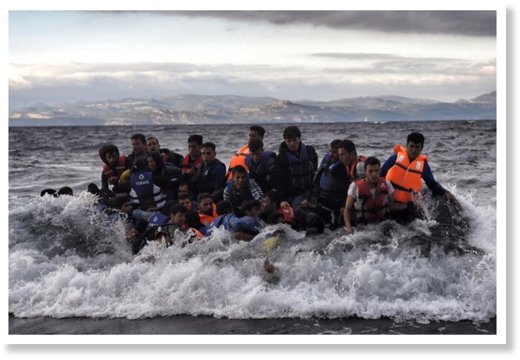 The huge influx of migrants into Europe is being used by some foreign leaders to weaken the European Union politically
, EU president Donald Tusk said Friday in Poland.
"
For the first time in my political career I have heard politicians openly declaring that the refugees heading to Europe are their method of getting (us) to act a certain way
," Tusk told a European forum in Sopot town on Poland's Baltic coast.
"
Some say that it's their method of weakening Europe as a political entity
," added Tusk.
The EU President did not name names or detail what kind of "behaviour" he was talking about, contenting himself with
inviting his audience to "draw your own conclusions."
He also argued that the "military solutions in Syria proposed by some countries" risked forcing the eight million Syrians displaced within their country to follow the thousands of their compatriots seeking a new life in Europe each week.
"
The refugees have become an element in the political battleground and sometimes.. they become a trading item, a new element in the hybrid war of which we have seen the first signs in Crimea and Donbass
," he added.
Russia last year annexed Crimea from Ukraine, an act which was followed by pro-Russian rebels fighting Kiev forces in eastern Ukraine areas such as Donbass.
"
I am not only talking about Russia
," Tusk assured.
The term 'hybrid war' had already been used elsewhere to describe the conflict in east Ukraine where Russia denies any military involvement.
Tusk also spoke against the growing trend among European nations to erect new barriers to keep out the migrants from Syria and elsewhere, warning against building new "walls" which threaten the border-free Schengen area.