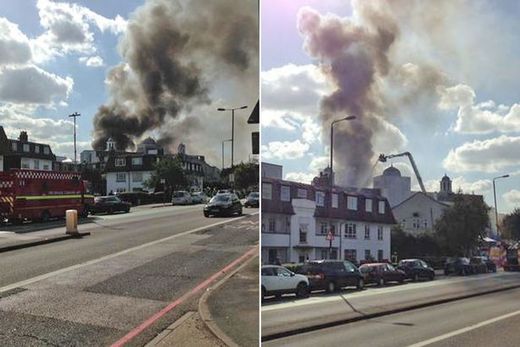 One man as been taken to hospital as much of the building, which can hold up to 10,000 worshippers, is up in flames
More than 70 firefighters are tackling a huge blaze at a mosque in South London.
Most of Baitul Futuh - said to be the largest mosque in Western Europe - is on fire, according to the fire service.
London Fire Brigade sent eight fire engines to the scene in Morden just after midday.
The blaze is affecting the ground and first floor. Huge pillars of black smoke can be seen from some distance.
London Ambulance Service is on the scene and has taken one person, a man in his 40s, to hospital after he suffered smoke inhalation.
Farooq Aftab, a spokesman for the Ahmadiyya Muslim community which built the mosque, said it has been safely evacuated.
"There were a few things going on but it wasn't a busy day," he said.
"It started at around 11.30am and the fire service are trying to establish the cause.
"At this moment in time we don't know [what happened]."
Roads have been closed and drivers are being advised to avoid the area.
The £15million mosque can hold up to 10,000 people and opened in 2003.
It was built by Britain's Ahmadiyya Muslim community who opened London's first mosque nearly 80 years ago.