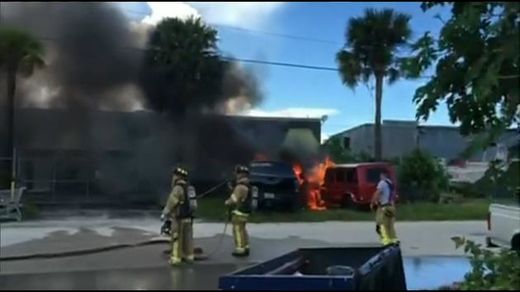 SOUTHWEST MIAMI-DADE, Fla. (WSVN) -- An auto body business was the scene of a large fire that, officials said, was caused by a transformer explosion, Friday afternoon.
Around 2:30 p.m., Miami-Dade Fire Rescue reported to the scene of the fire in the area of Southwest 105th Street and 184th Terrace. According to witnesses, a transformer of the business exploded and caused two vehicles and one boat to catch fire.
Crystal Morales said she stepped outside when she heard the loud explosion and watched as a power wire fell on top of the vehicles and the boat. "Lights were going on and off, then after that, there was a really big explosion," said Morales. "The fire department came quick. I called 911."
Before the fire was put out by crews, they had to shut down power. "We were all scared the truck, Mercedes and boat were going to explode," said Morales.
No injuries were reported and the vehicles and the boat are likely to be declared a total loss.