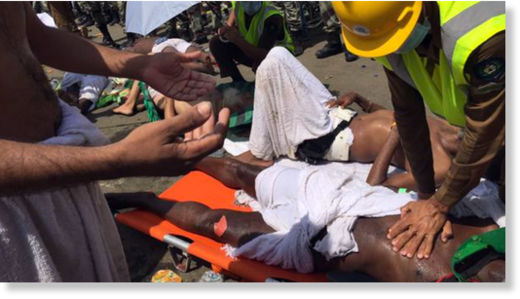 A stampede during the Hajj outside of the holy Muslim city of Mecca has claimed about 220 lives and left almost 450 pilgrims injured, Saudi Arabia's Civil Defense Service reported.
The Directorate of Civil Defense said it has deployed two medical teams in the field for emergency treatment of the victims of the crush.
The crush happened in Mecca's neighborhood of Mina, which traditionally provides temporary accommodation for hundreds of thousands of pilgrims. The ritual of the 'Stoning of the Devil' is performed in a valley surrounding the neighborhood on the night before last day of the Hajj.
Muslims worldwide are celebrating on Thursday the holy day of Eid al-Adha. An estimated 2 million pilgrims traveled to Mecca for the celebration.
Just two weeks ago over a hundred people were killed in Mecca when a construction crane fell on the crowded the Grand Mosque. The worshipers had gathered in the city ahead of this year's Hajj.
The crush happened at Mecca's neighborhood of Mina, al-Ekhbariya reported, citing civil defense officials.
Update as of 25 Sept:
Reports
are now indicating that the death toll from the stampede has reached 2,000.