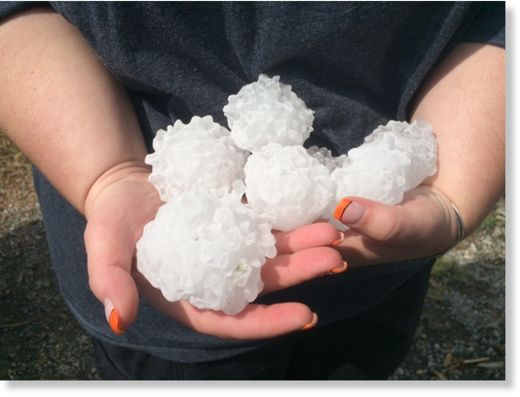 A viewer shared a photo of Stanton County that shows the weight of the thunderstorm that swept through.
The storm left tennis balls-sized hail in some locations, such as resident Danielle Gallup's yard.
"Hail is hitting hard," Gallup said.
The fall storm subjected the area north of Stanton to dangerous hail stones Tuesday morning.
"Honestly, it sounded like we were at a shooting range, cause it was hitting off the roof and vehicles, everywhere,"
Gallup said, referring to some video she captured on her phone.
Gallup said it scared her and damaged her friend's truck, along with the side of her house.
"We just had all the siding redone because the house was destroyed in a hail storm last summer," Gallup said.
The hail was spotty and many of the crops that were hit are still standing. With harvest season coming up, farmers will have to wait and see how much loss they suffered.
Golf ball-sized hail shattered Sarah Wehrle's pickup truck and car, and she said there was so much hail that the yard looked white.

"It was piled up a couple of inches," Wehrle said.
Gallup said the damage is worse for a home owner; following the hail storm last year her insurance provider dropped her coverage after paying the claim. Gallup joked that maybe it's time to move.