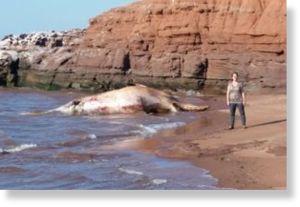 For three travelling companions from the Prairies, Saturday's discovery was a rare find, indeed.
Merle Massie and Darcy Overland from Saskatchewan and Jodie Asselin from Alberta had just completed a conference in Summerside when they decided to go exploring.
Their adventure took them to Cape Wolfe.
"We were just walking the coastline, because the cliffs are quite nice. We thought it would be very picturesque," Overland related.
"We went down and we went, 'Well, that's a funny-looking rock,'" Massie said.
That unusual rock turned out to be a dead whale. Provincial Conservation Officer, Sandra Keough, who examined the whale on Monday, said she believes it's a minke
, the third such find along a 17-kilometer stretch of West Prince beach in a month. One was found in Roseville on August 18. On Friday another one was floated off the beach in Burton and buried on a more accessible section of beach further north in the community.
"Everyone we talk to about this whale, we say, 'We know what to do with a moose or a deer;' we have no idea what to do with dead sea life except make sushi," Overland chuckled.
They made some calls - Coast Guard, Fisheries, the Atlantic Veterinary College - and left messages.
"It was kind of fun. I mean, how often do you find a dead whale?" Overland commented.
Although excited about the discovery, Massie said her children were saddened about the news of a dead whale.
Keough said a necropsy indicated the whale in Roseville died of drowning, likely from being entangled in rope or nets. She said there were rope marks on the whale she examined in Cape Wolfe.